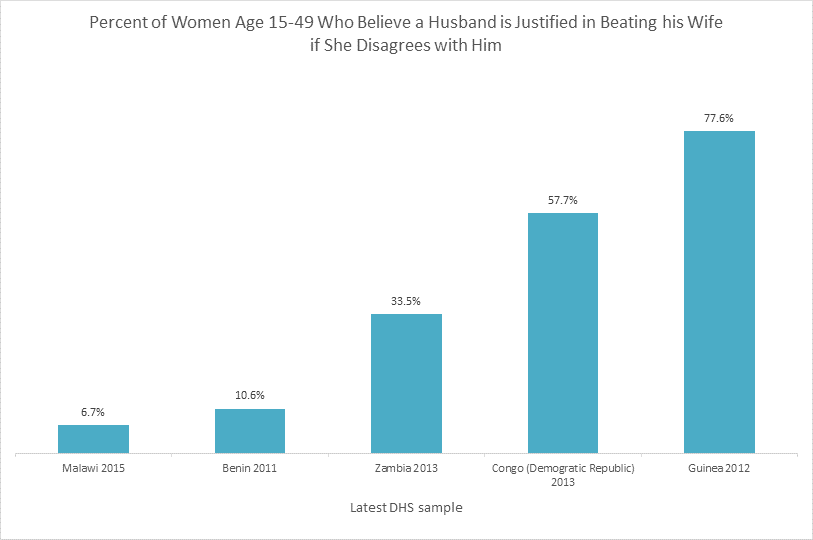 Along with supplying information on the health of women and their children in low and middle income countries, the Demographic and Health Surveys supply essential information about the prevalence of, and attitudes toward, intimate partner violence. Figure 1 shows cross-country variation in the acceptability of intimate partner violence in selected Sub-Saharan African countries, based on the latest DHS surveys.
For the countries shown, all women of childbearing age (15-49) were asked the following question: "Sometimes a husband is annoyed or angered by things that his wife does. In your opinion, is a husband justified in hitting or beating his wife in the following situations: … If she argues with him?" That the percent of women with this statement agreeing ranges from around 7 percent to 78 percent, depending on the country, merits further exploration.
For twenty-first century Demographic and Health Surveys, material from an optional Domestic Violence module allows researchers to track the relationship between attitudes toward domestic violence, the prevalence and severity of intimate partner and familial violence, the likelihood of help-seeking for domestic violence victims, and other indicators of women's status and well-being (such as education, labor force participation, fertility, access to health care, age at marriage, and participation in household decision-making). Figure 1 was created using harmonized DHS data from IPUMS-DHS (available for free at idhsdata.org), which includes over 100 surveys from 23 countries, including 33 surveys incorporating the Domestic Violence module.
Story by Greta Gangestad, Data Analyst and Dr. Miriam King, Project Manager
Integrated Demographic and Health Surveys (IPUMS-DHS) project
Minnesota Population Center