In August, the IPUMS International team traveled to the International Statistical Institute World Statistics Congress 2019 (ISI-WSC) in Kuala Lumpur. In addition to the IPUMS exhibit booth and the hands-on workshop during the conference (from August 18-23), IPUMS International enjoyed facilitating several pre-conference activities.
PRE-ISI WSC 2019
IPUMS Geographer Sula Sarkar and Project Manager Lara Cleveland were hosted by the University of Malaya where over 50 attendees gathered to learn about using IPUMS in their research and studies. The workshop was well-received by the participants who represented a range of disciplines in academia and the government sector. We would like to thank IPUMS International Advisory Board (IAB) member Dr. Tey Nai Peng for his continued strong support and promotion of IPUMS International data! Learn more about IPUMS IAB members.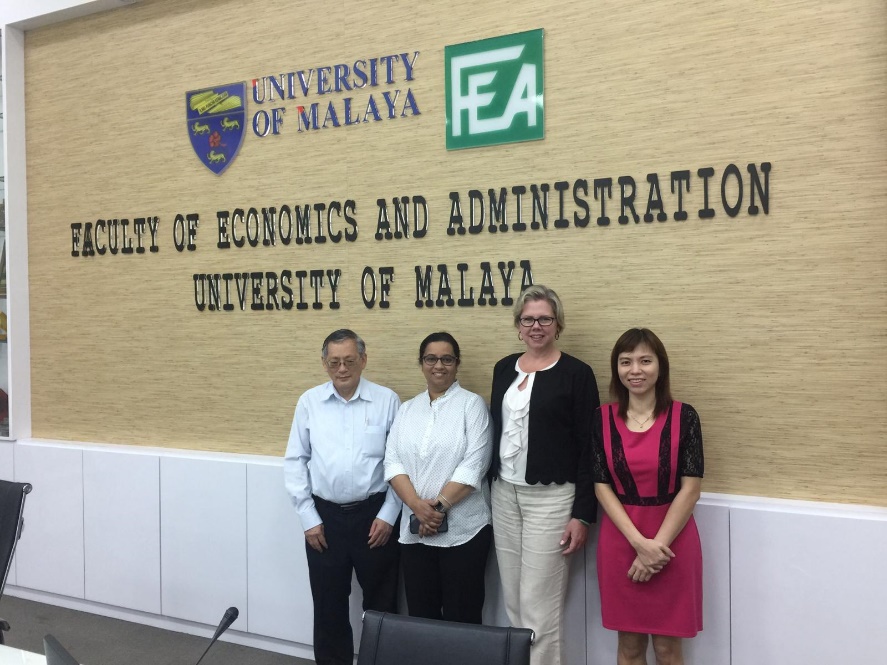 Sula Sarkar and Lara Cleveland with hosts at the University of Malaya
Jane Lee (IPUMS International) and Devon Kristiansen (IPUMS PMA) talked with participants at a pre-ISI WSC satellite conference held by the International Association for Statistical Educators (IASE) via an IPUMS exhibit booth.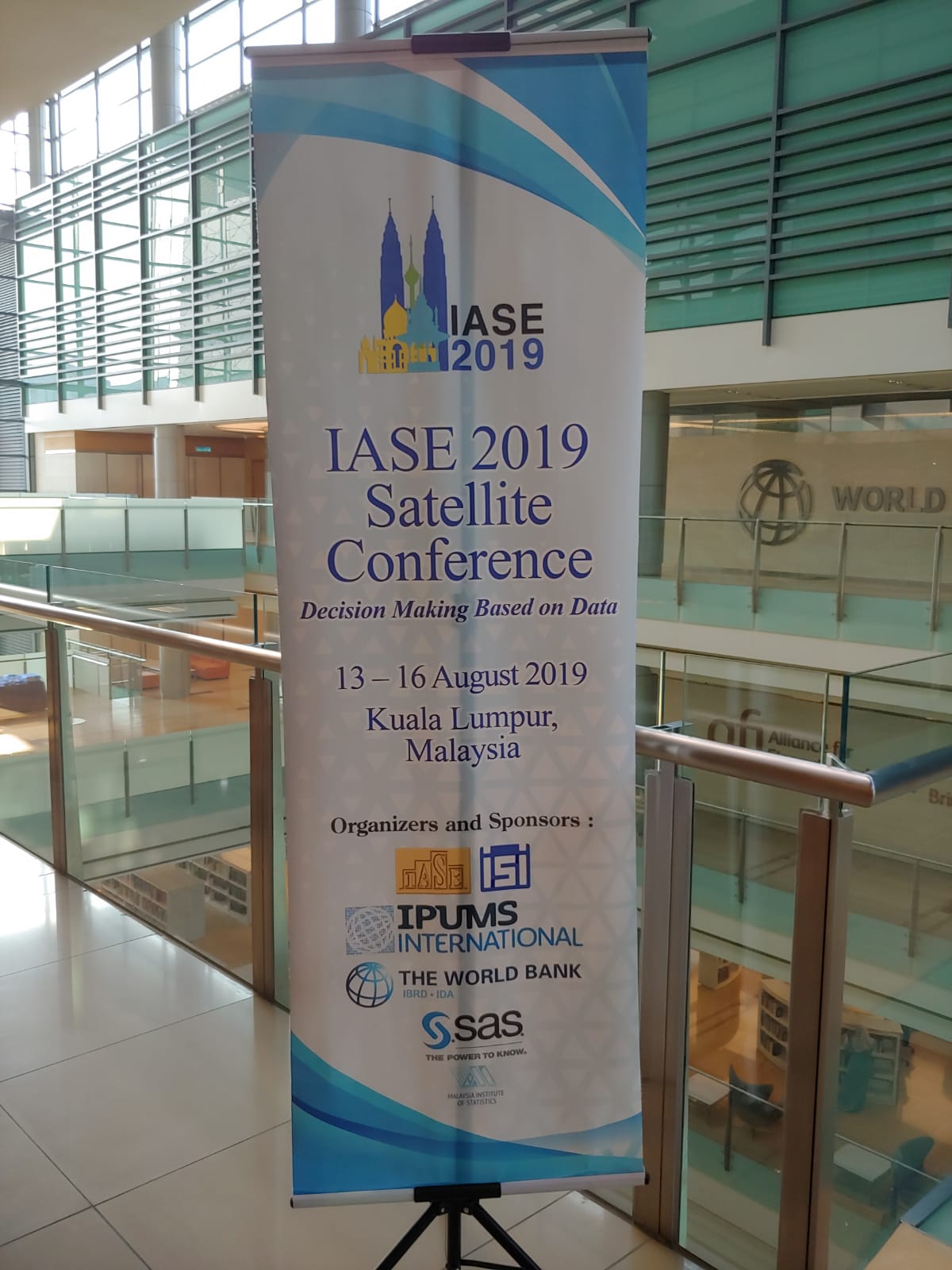 IASE Satellite Conference banner
In addition to the presentations, we were particularly impressed by posters from the student finalists in the International Statistical Literacy Project 2018-19 Poster Competition. Congratulations to those students (primary school through undergraduate level) for their hard work.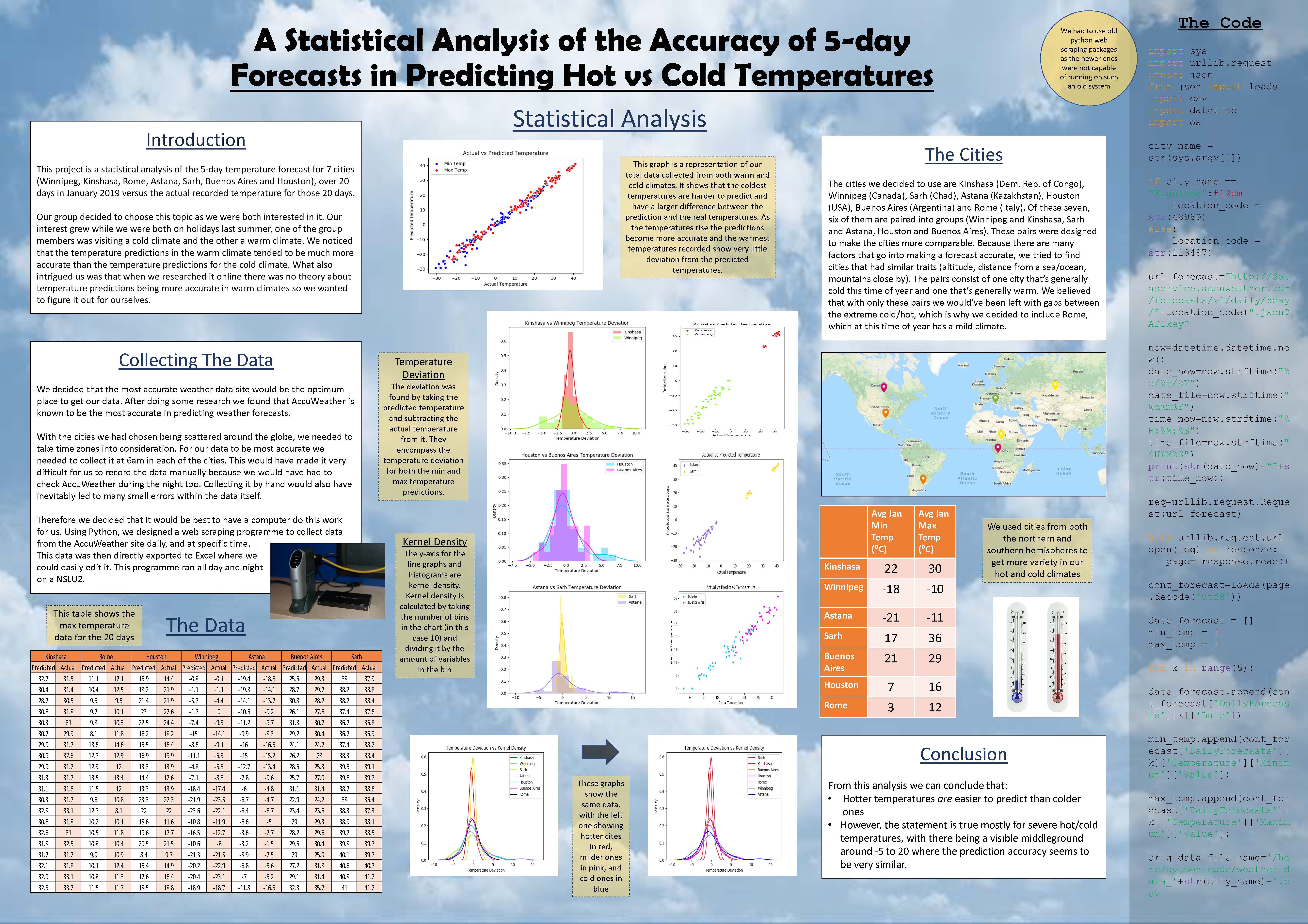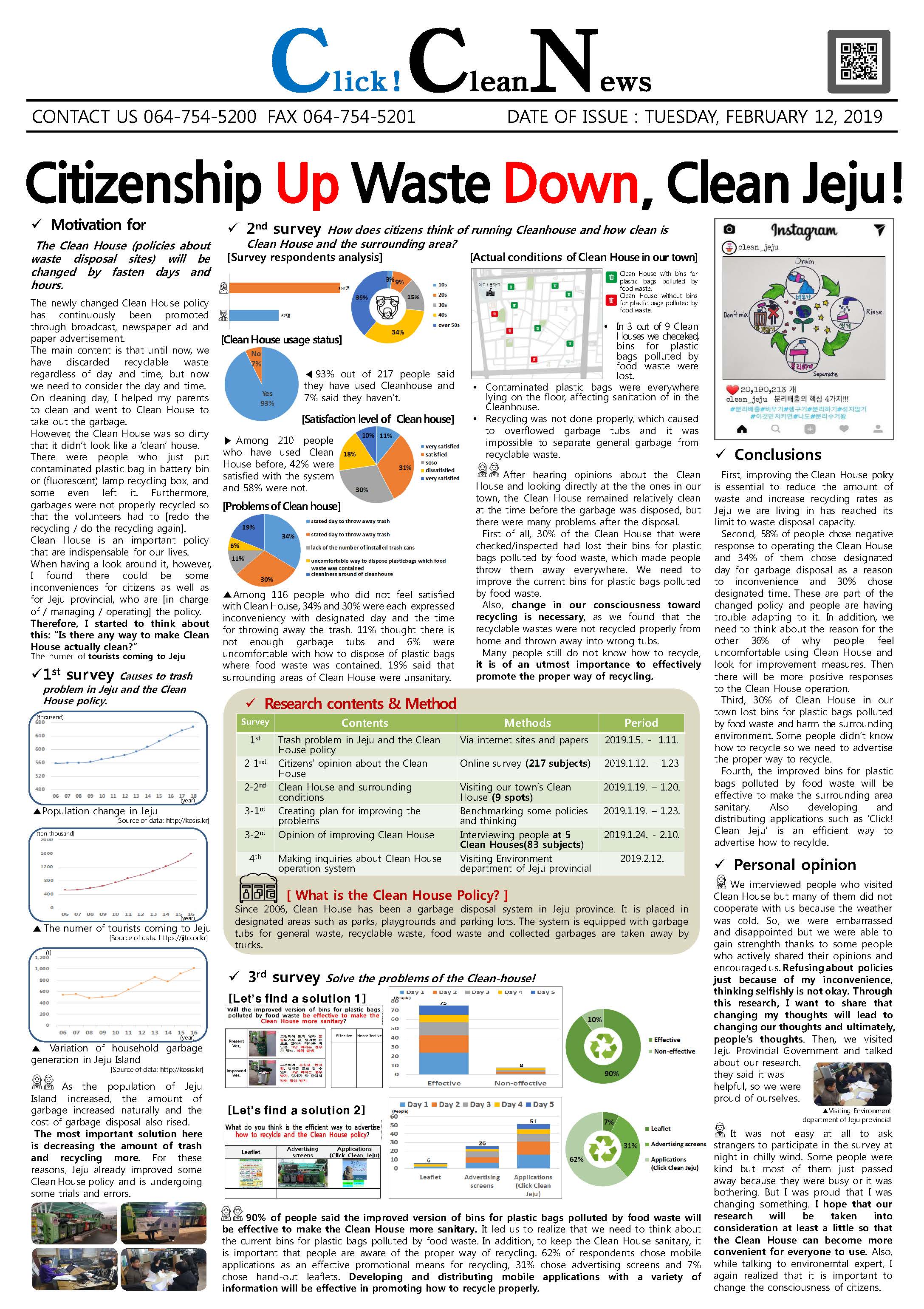 IPUMS Country Partners Workshop
On Sunday, August 17, IPUMS International held an IPUMS Country Partners Workshop for current and prospective country partners. Talks were given by researchers and national statistics office representatives from Egypt, Finland, Gambia, Ireland, Nepal, Palestine, Philippines, Sri Lanka, Thailand, the University of Queensland, the World Health Organization, and the World Bank. The exchange of experiences, successes, and challenges related to census operations, 2020 round plans, and data dissemination made for a productive and informative meeting. The workshop, as well as the IPUMS Partner Dinner that followed the next evening, provided an opportunity to celebrate the addition of Gambia to the IPUMS partnership as well as the acquisition of new data from Thailand (2015 Census). Commitments from other IPUMS International partners were also made for additional census and survey data—including labor force surveys!

IPUMS at ISI
If you were not one of the hundreds of conference participants that stopped by the IPUMS booth, or you were unable to attend our Hands-On Workshop during ISI, we missed you! But please note that there are now pre-recorded English and Spanish-language webinars introducing IPUMS International to the new user—the educator, the policymaker, the researcher. Other webinars cover geography and spatial harmonization as well as the tabulator functions of IPUMS International. Check out our multi-lingual online training materials along with teaching exercises for more information.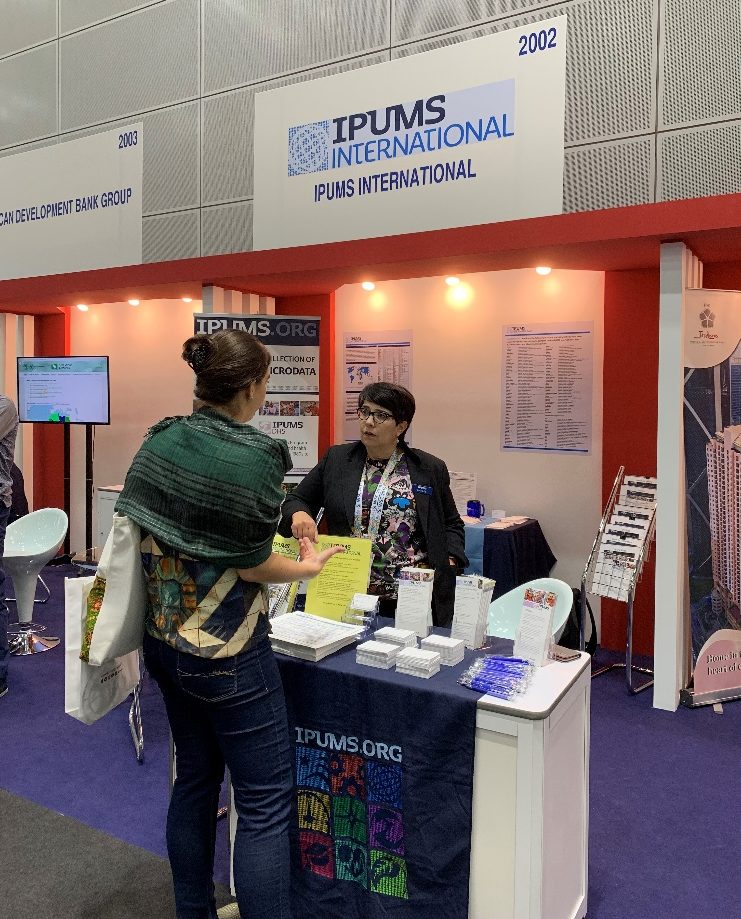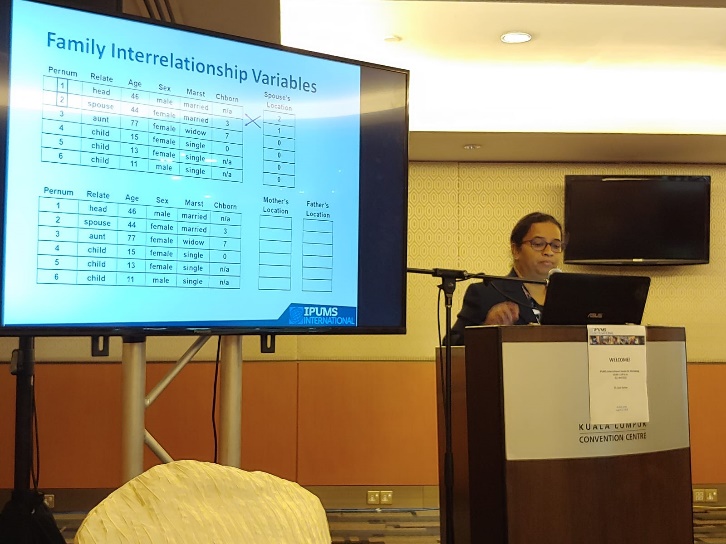 Highlights
This year the International Prize in Statistics was given to Brad Efron, the second-ever recipient, "in recognition of the 'bootstrap,' a method he developed in 1977 for assessing the uncertainty of scientific results that has had an extraordinary impact across many scientific fields." The prize is awarded to an individual or team in the field of statistics "for major achievements using statistics to advance science, technology, and human welfare" and provides a monetary award of $80,000. Five statistical organizational giants collaborate in bestowing the award: the American Statistical Association, the Institute of Mathematical Statistics, the International Biometric Society, the International Statistical Institute, and the Royal Statistical Institute. It is considered a sort of Nobel prize for statistics.
Even more remarkable to us as women attendees was watching the presentation by the five representatives who currently head the collaborating organizations, all of them women, during the opening ceremony of ISI. They are Karen Kafadar (American Statistical Association); Susan Murphy (Institute of Mathematical Science); Louise Ryan (International Biometric Society); Helen MacGillivray (International Statistical Institute); and Deborah Ashby (Royal Statistical Society).
While all of all these women count Efron as a mentor and do not want to overshadow his great contributions, research shows the power of seeing ourselves represented in leadership positions. Let's look forward to seeing more women and others from underrepresented groups and countries in statistics leadership roles. These five women (pictured below with colleagues) give us hope.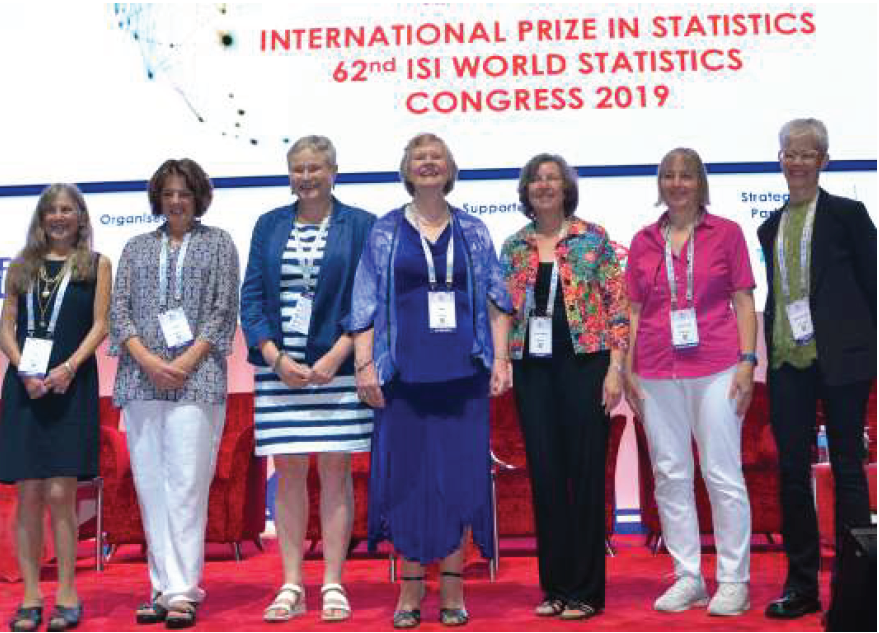 International Prize in Statistics award ceremony
After the inspiring closing to the conference, we headed to the Kuala Lumpur airport for our return trip to Minnesota and were surprised to meet up with new ISI President John Bailer, who was waiting for the same flight. While we were excited to share the wonders of IPUMS International with Dr. Bailer, we were equally intrigued to learn about his popular podcast Stats + Stories (produced at Miami University) that explores quantitative ideas in everyday lives and in journalism. Topics range from entertainment and sports to economics and methods, and content is aimed at everyone from the most seasoned statistician to the layperson. In addition to Dr. Bailer, regular panelists include Rosemary Pennington and Richard Campbell from the Department of Media, Journalism, and Film. Check out recent episodes that include Using the Stats to Improve Your League of Legends Game or Making the Census Count!
IPUMS extends its sincere thanks to the leadership and staff from the central and state offices of the Malaysia Department of Statistics for their attentive planning of this massive event. Their hard work truly paid off and provided us with a greater understanding and appreciation for the country and the people of Malaysia.
Story by Jane Lee
IPUMS International