By Stacy Nordstrom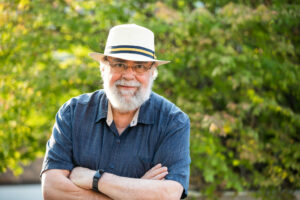 Dr. Steven Ruggles, Regents Professor of History and Population Studies and Director of the Institute for Social Research and Data Innovation at the University of Minnesota, has been honored by the John D. and Catherine T. MacArthur Foundation as one of this year's MacArthur Fellows. Commonly known as the "genius grant", the fellowship is regarded as one of the most prestigious awards in the United States for intellectual and artistic achievement.
A historical demographer, Dr. Ruggles is renowned for building IPUMS, the world's largest publicly available database of population statistics, and an invaluable tool for comparative research across time and space.
"I first met Professor Ruggles when I was working at the National Science Foundation. We have since served on working groups together, and I have been repeatedly impressed by the intellectual rigor and human caring he brings to any problem," said University of Minnesota Executive Vice President and Provost Rachel T.A. Croson. "His dedicated work on IPUMS has significantly advanced our scientific understanding of the human experience, and has provided data for untold numbers of scholars. This recognition is well-deserved and I am proud that Professor Ruggles is a member of our academic community."
Ruggles's scholarship on changes in family composition and living arrangements in the United States has analyzed the decline of multigenerational households and the rise of single parenthood and divorce. To investigate these and other changing characteristics of the population over decades and centuries, Ruggles required massive quantities of individual and household-level census data from manuscript collections dating back to the mid-19th century.
"In the early 1990s, the available historical data had limited coverage and what did exist was difficult to use because of incompatibility across time, nonstandard documentation and inaccessibility" Ruggles explained.
To provide researchers with free and easy access to harmonized data, Ruggles launched IPUMS at the University of Minnesota in 1991. Today, IPUMS includes U.S. census data from 1790 to 2021, as well as international census and survey data from 157 countries spanning from 1703 to the present. The data provide detailed information on a wide range of demographic and economic characteristics of more than two billion people, including fertility, family composition, migration, education, employment and housing.
By creating a framework for locating, analyzing, and visualizing the world's population in time and space, IPUMS enables researchers worldwide to investigate the drivers of change, assess their implications for human society and the environment and develop policies to meet future challenges.
The MacArthur Fellowship is a recognition of Ruggles' outstanding career and is intended to continue to encourage his creative, intellectual and professional inclinations. The award carries a $800,000 stipend, paid in quarterly installments over five years with no strings attached on how recipients can spend the money. The MacArthur Foundation typically selects 20 to 30 fellows annually, prioritizing creative individuals with a track record of unique accomplishments.