IPUMS Time Use, in partnership with Dr. Teresa Harms of the Centre for Time Use Research, is proud to announce the public release of the 1930-31 USDA College Women Time Use study. These data provide researchers a unique look into the lives of married, college-educated women at the beginning of the Great Depression. The respondents were asked to complete a detailed record of their time use for seven consecutive 24-hour periods (see a sample daily diary below; borrowed with permission from Teresa Harms, CTUR). The women described activities in their own words, listing them consecutively as they occurred throughout the day, with a minimum interval of five minutes. They also recorded the time devoted to various homemaking tasks by other household members and paid help as well as demographic and work status data and information about the household. The data also include the verbatim activity reports and the occupations the women reported at the time of data collection. All data are available via the IPUMS American Heritage Time Use Study (AHTUS) extract system.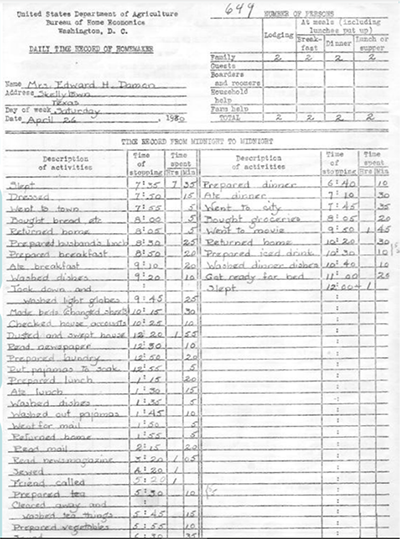 In the 1920s, the United States Department of Agriculture conducted one of the very first American research studies into the daily lives and time use of rural and urban women across the country. In 1944, the USDA published a paper titled "The Time Costs of Homemaking: A Study of 1500 Rural and Urban Households", which summarizes the findings from the 1500 whole-week diary records kept by homemakers over two periods: 1924-1928 and 1930-1931. The earlier group of 808 included both farm and non-farm households in open country or in towns and villages of fewer than 2500 people. The later records (1930-31) comprised of 692 married alumnae of the Seven Sisters (Barnard, Radcliffe, Vassar, Bryn Mawr, Mount Holyoke, Smith and Wellesley) from the classes of 1886 to 1929. Only 75 complete time diary surveys from this latter group of college-educated women have been located in historical archives in Kansas and Maryland. Dr. Teresa Harms assumes that the remainder of the 692 are missing, the response rate was low, or many of the records were incomplete.
Harms matched over 95 percent of the names and addresses of the records from the 75 college women to US Federal Census microdata from 1920 to 1940. Variations in the spelling of family and given names and household relocations complicated the matching process, so additional sources were employed to resolve problems of identification (including birth, death, and marriage indexes; voting registers; social security numbers; city directories; military draft records; immigration and travel docu­ments; and other material, such as obituaries and newspaper articles). Learn more about Dr. Harms' work digitizing these data and the research that she has done with them in this video.